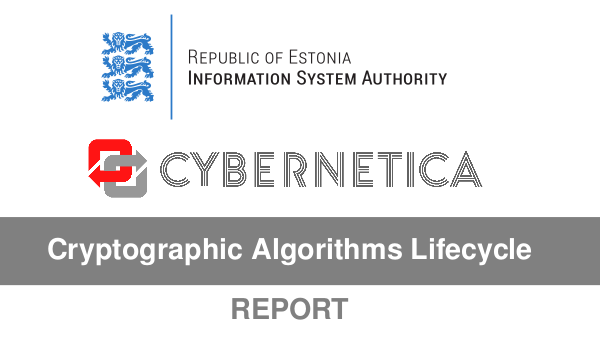 This year we have ordered and will publish cryptographic algorithms life cycle report in parts. The first part is now available.

The first and the most important chapter gives overview of the current state of algorithms.

The second chapter writes about the cryptographic side of the last fall ID card crisis. The report describes what happened, what was done and how on the cryptographic side the new solution (elliptic curves) for ID cards works.

The third chapter gives overview of block-chain technologies and in addition provides Estonian-language terminology for block-chain related English terms.

The report has been ordered by RIA and written by Cybernetica researchers Ahto Buldas, Jan Willemson and Arne Ansper.
Links:
https://blog.ria.ee/ria-kruptouuring-id-kaart-ja-plokiahelad/
https://www.ria.ee/public/RIA/kruptograafiliste_algoritmide_elutsukli_uuring_2017.pdf
https://geenius.ee/uudis/nsa-usub-et-eesti-id-kaart-peaks-vastu-pidama-ka-kvantarvuti-runnakule/