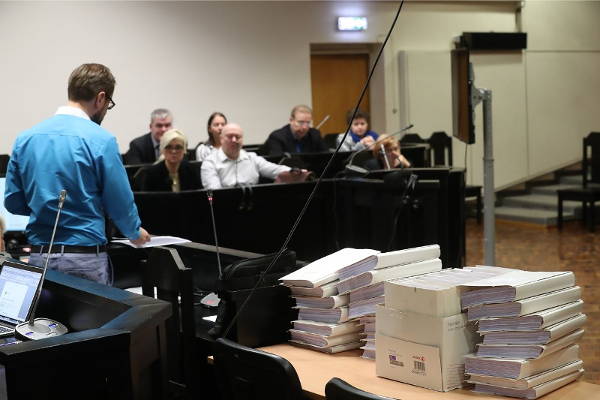 Harju County Court on Thursday accepted plea bargains reached between the Office of the Prosecutor General and those charged in connection with a criminal organization found to be illegally issuing official documents and will make a decision regarding their confirmation in early February.
This is what happened in 2015:
Estonian police has detained 12 people, including four Police and Border Guard (PPA) employees, in what is believed to be the biggest scam the country has seen for years. The suspects allegedly issued official documents that need state approval, such as language test certificates, living permits, papers needed to receive Estonian citizenship, and medical certificates. The scam involved forgery, entering false information and accomplices who used fake identity.
PPA employees were abusing state databases and ignoring suspicious applications:
Four Police and Border Guard employees, who are now bribery suspects, are believed to have been involved in the process of issuing the forged documents, but were not organizers of the scam. They released confidential information, knowingly accepted application forms with false information and issued official documents in return for bribes. Two are specialists and two are customer servants.
This is how the scam got discovered:
Nobody would have ever noticed, if not for the personnel changes at PPA last year. As a result of this, a new person ended up working with follow-up check of citizenship applications, to whom lots of cases seemed an anomaly. People with positive responses to applications looked like they had nothing to do with Estonia whatsoever. As the cases were dozens, the official told internal audit.
The scam was organized by 65-year-old woman calling herself Maarika. Most "clients" who received counterfeit documents were pardoned as exchange from criminal charges. We can see here that if the base identity is not sufficiently protected, no eID system, however well designed, can help.
Links:
http://news.err.ee/v/news/politics/society/77509022-4164-4fb2-81ec-5dab57316f13/enormous-document-factory-scam-exposed
http://news.postimees.ee/3379293/passport-mafia-led-by-babushka
http://news.err.ee/v/news/927817f2-8c7c-435b-a9d9-bde9dc48d934/court-accepts-plea-bargains-in-large-scale-document-counterfeiting-case
http://news.postimees.ee/3996169/members-of-the-passport-mafia-stand-trial