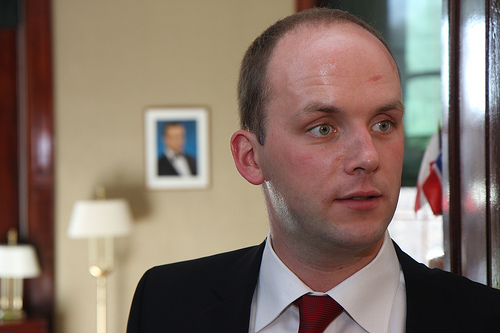 Minister of Economic Affairs and Infrastructure Uve Palo signed a decree to appoint Taimar Peterkop for the Estonian Information System Agency (EISA) director-general. Taimar Peterkop is currently working in Ministry of Defence as Undersecretary for Legal and Administrative Affairs. He begins his work at EISA this May.
From the CV:
Taimar Peterkop was born on 20th January 1977 in Tallinn. He has graduated from the University of Tartu Faculty of Law and he has completed many in-service trainings, including the Higher Command Studies Course in Baltic Defence College. Mr Peterkop holds a Master`s degree in Strategic Studies from the United States Army War College. He is also a reserve officer.

During 2000–2001 Taimar Peterkop worked as a lawyer in the Government Office. During 2001–2005 Mr Peterkop worked in the Ministry of Defence as the Director of International Law Office and during 2005–2008 as the Director of Operations and Crisis Management Department. From 2008 until July 2010 he worked as a Defence Counsellor in the Estonian Embassy in Washington.

Taimar Peterkop has also worked as a national defence teacher in several high schools and as an international law lecturer at Estonian Business School.
Links:
http://uudised.err.ee/v/eesti/c9740dca-b127-49e1-923b-71be3b8bbf3f
https://www.ria.ee/ria-peadirektoriks-saab-taimar-peterkop/