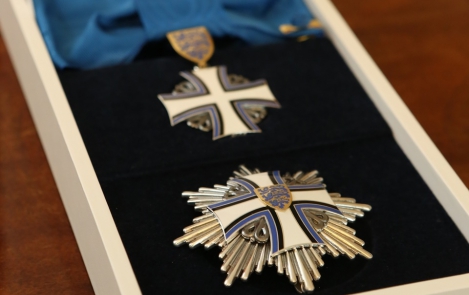 The President decided to recognize with decorations three people who helped to solve the crisis of the ID-card that struck Estonia last year. The Order of the White Star, 5th Class will be handed to Margus Arm, the head of the State Information System Agency eID field, Kaija Kirch, who led the crisis management team at the Police and Border Guard Board, and Kaarel Raspel, a Nortal employee, who helped RIA to develop a solution to solve the ID-card crisis:

Margus Arm, promoter of information society. Margus Arm, as head of the eID field of the State Information System Authority, played a key role in removing the security risk of ID-card. He worked out key proposals for resolving the crisis and led the work of the team who developed the technical solutions.

Kaija Kirch, promoter of internal security. Kaija Kirch was in charge of a crisis team formed to eliminate the security card ID card at the Police and Border Guard Board. Under her leadership, both the completion of the new ID-card production line and PPA's customer service, as well as cooperation with other public authorities, the private sector and citizens took place.

Kaarel Raspel, promoter of field of e-services. Kaarel Raspen, as a staff member of AS Nortal, made a great personal contribution preventing the security risk of the ID-card from realizing. He had a leading role in developing a fundamental solution that allowed the ID-card ecosystem to be replaced with elliptical curve encryption algorithms, which prevented the ID-card chip from encountering security risk.
The Order of the White Star, 4th Class will be also handled to:
Raimo Peterson, promoter of cybersecurity cooperation. Raimo Peterson has helped the NATO Cyber ​​Defense Center to become an internationally recognized center of expertise. Under his leadership, the Locked Shields cyber defense exercise has become one of the world's largest among its kind. He has also developed a critical information infrastructure capability in the form of a laboratory that is used by both Estonian state authorities and large private companies.
Congratulations!
Links:
https://news.err.ee/679885/president-of-estonia-to-bestow-state-decorations-on-166-individuals
https://tehnika.postimees.ee/4398027/id-kaardi-kriisi-lahendaja-eesti-e-riiki-ei-saa-kinni-panna
https://president.ee/et/eesti-tanab/teenetemarkide-kavalerid-2018/14008-margus-arm/layout-decoration.html
https://president.ee/et/eesti-tanab/teenetemarkide-kavalerid-2018/14039-kaarel-raspel/layout-decoration.html
https://president.ee/et/eesti-tanab/teenetemarkide-kavalerid-2018/14015-kaija-kirch/layout-decoration.html
https://president.ee/et/eesti-tanab/teenetemarkide-kavalerid-2018/13972-raimo-peterson/layout-decoration.html