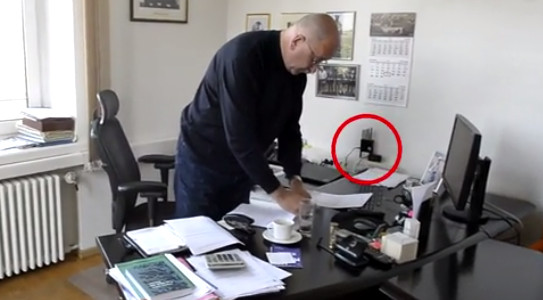 An unique device was noticed on the table of Tallinn deputy mayor Kalle Klandorf during a interview which took place on Thursday. It is probably a jammer. Jammer is an electronic device which fills specific frequencies with electromagnetic noise. Other devices using the same frequencies are unable to transmit.

Even though the exact inscription is not seen, it may be [this device, costing USD 208]. The device blocks frequencies 925-960 MHz, 1805-1880 MHz and 1930-1990 Mhz used for mobile phones. It also blocks WiFi connection on 2.4GHz and UHF frequencies 400-470 MHz.

Klandorf laughed at the question if there is an jammer on his table. "I haven't noticed. Maybe it's not mine? I haven't bough. I don't know" he replied. He suggested that it may be a handheld radio. Ten of those were recently bought for the municipal police and crisis team. Klandorf thought that it could be a amplifier. Considering wiretapping, Klandorf said that he wouldn't mind if they listen.

According to Electronic Communication Act p. 23 it is forbidden to use devices which create interference and disturbs radio communication. It is forbidden to sell, facilitate etc. and importing into EU. [According to the Technical Regulatory Authority], it is forbidden to allow such devices to the market and take into use because they do not comply with the regulations.
The use of frequency jammers is probably one of the methods how bribery allegations facing mayor of Tallinn tried to prevent eavesdropping by KAPO.
Comment by Estonian jammer vendor:
According to research director of OÜ Rantelon professor emeritus Andres Taklaja, the device in Klandorf's office is meant to interrupt wiretapping devices. OÜ Rantelon produces commercial jamming devices for govermental agencies and defence forces. He said that most certainly it is a jammer. It looks like a cheap jammer with separate antenna for every frequency range. He suggested that if there is a jammer, then there must be bugs.

"These gentlemen should know the frequencies used by the bugs as they were former militiamen. They probably chose the device according to the potential bugs. The looks of the device depends on the frequencies it is meant to interfere. The length of the antennas depends on the wavelength of the radio-waves. It is possible to deduce the frequencies by external observation."

"If the device is too powerful, then it may interfere with other equipment in the building, so I suspect that it is quite low-power. The device is powered from the plug and the power can be adjusted. It could have a battery but such devices take quite a lot of power. If it is unplugged, then it is probably turned off." Rantelon produces bigger and more powerful devices as they are meant to be used in the field. The professor didn't suggest how the deputy mayor could have obtained the jammer.
Links:
http://forte.delfi.ee/news/digi/mis-viie-antenniga-masin-kalle-klandorfi-laual-on-ilmselt-jammer?id=72543507