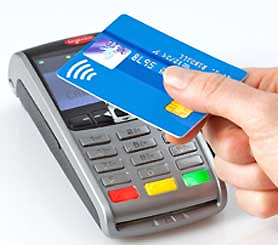 All banks, which issue contactless credit cards in Estonia, starting from October 16 will raise the payment limit from 10 to 25 EUR.

"The ten euro limit established in Estonia initially proved that both consumers and merchants are interested in the new payment method and it is also safe, because only the special equipment for which a contract with the bank is necessary is required to pay the payment," said Meelis Nurk, chairman of the banking union card working group.

15% of the bank cards used in Estonia are contactless cards. By the end of the year, 80% of payment terminals should support contactless payments; by 2020, all terminals must be able to provide pay-as-you-go payments.

In Estonia the contactless payment cards are issued by Swedbank, SEB Pank, LHV Bank, Krediidipank and Nordea Bank.
Links:
http://kasulik.delfi.ee/news/uudised/viipemakse-limiit-touseb-kumnelt-eurolt-25-euroni?id=79535098