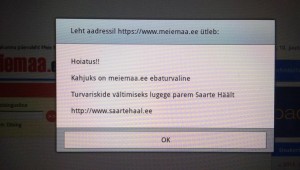 A 22-year-old hacker has been fined 455 euros for breaching the Meie Maa media website and disabling the comments section, which then diverted readers to a rival site. The attack took place in May, forcing Meie Maa, a media outlet in Saare County, to temporarily shut down its comments section, Meie Maa reported. Readers entering the section were told the site is unsafe and were directed to Saarte Hääl, a rival news site.

The Western District Prosecutor's Office fined the man 455 euros, of which 100 euros, which has already been paid, will go to Meie Maa as compensation for damages and 355 euros will go to state coffers. Head of Meie Maa, Priit Rauniste, said they are yet to decide whether they will pursue civil action against the man.
Escaped criminal punishment – Western District Prosecutor's Office closed the criminal proceedings in this case.
Apparently, meimemaa.ee had a XSS vulnerability in the comments section, which was exploited by adding a HTML code which displayed the message and redirected visitor's browser to other news site.
Not clear how the fine was calculated and what section under Estonian Penal Code was originally imposed against the attacker.
Links:
http://news.err.ee/v/society/e0f267a5-b8f5-45e0-baac-584a1fd61360
http://uudised.err.ee/v/eesti/cbe747dc-22e2-4b9b-ab05-a8d90a1a50b0