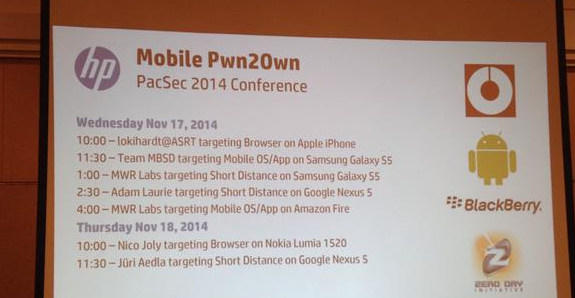 Researchers hacked several of the latest popular smartphones during the Mobile Pwn2Own competition that took place alongside the PacSec Applied Security Conference in Tokyo on November 12-13.

The competition, organized by HP's Zero Day Initiative (ZDI) and sponsored by BlackBerry and the Google Android Security team, targeted the Amazon Fire Phone, iPhone 5s, iPad Mini, BlackBerry Z30, Google Nexus 5 and Nexus 7, Nokia Lumia 1520, and Samsung Galaxy S5.

Jüri Aedla of Estonia used a Wi-Fi attack against a Nexus 5, but failed to elevate his privileges, HP said.
Links:
http://www.securityweek.com/mobile-pwn2own-2014-iphone-5s-galaxy-s5-nexus-5-fire-phone-hacked